Lacapelle Marival is on the edge of the Ségala, an area famous for its chestnut woods, and is set in the shadow of its imposing 13th century castle. Offering markets and shops and well known for its gastronomic menus, the town is well equipped for holiday activities. The town also offers tennis, swimming, miniature golf and fishing.
Nearby attractions include cheesemaking, Pech de St-Bressou, the bastide town of 13th century Rudelle, with its ruined fortified church, the disappearance underground of the rivers Francis at Théminettes and Ouysse at Thémines.
Saint Céré is in a fertile valley, gateway between the Augergne, Causse and Dordogne. This town of 5,000 inhabitants dates back to the Charlemagne, developed around ancient foundations under the heights of the 'Towers of St-Laurent'.
Roc-Amadour is the second 'site de France', in an extraordinary setting reached from the Hospitalet (13th century chapel) along the holy way which descends 150 meters into the Alzou canyon. At the lower level, the village street is rich in history with its 14th century fortified gates, its ancient houses and its Renaissance Hotel de Ville (15th century, with Lurcat tapestries).
By the pilgim's stairway or by lift, the visitor arrives at the mid-level, the ancient religious citadel. With seven chapels, including the Chapel of Our Lady and the Chapel of St-Michael, the citadel includes works of art from as early as the 12th Century.
Crowning and defending Roc-Amadour on the highest level, 14th century ramparts allow a remarkable aerial veiw of the town and surrounding countryside.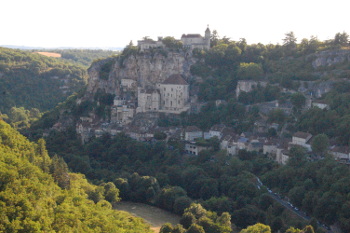 Bretenoux is a thirteenth-century bastide town at the confluence of the rivers Cère and Dordogne, dominated by the castle of 'Castelnau-Bretenoux' (the second 'forteresse' of France). Visitors should not miss the Place des Consuls, town walls and ancient houses.
The canton of Bretenoux stands at a tourist's crossroads, where the Quercy, Périgord, Limousin and Massif-Central meet. It is an ideal holiday centre, a paradise for anglers with its innumerable fishing waters. It offers excellent shopping, and is within reach of places of interest to visit.
Gramat, with its 3,900 inhabitants is the capital of the 'Causse', and is a centre for exhibitions of local art and other cultural activities. The horse races at the 'Hippodrome du Tumulus' are an important local festival at the beginning of August. Attractions include rue St-Roch, the watchtower, the old market place, and, in the Alzou valley nearby, the Moulin du Saut.