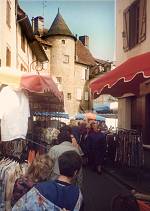 This region is renowned both for its gastronomy (spicy full-bodied Cahors, confits, foie gras, cèpes) and for offering cultural and leisure opportunities to suit all tastes; historic towns, unspoilt villages, chateaux and museums, canoeing, biking and horse riding together with several famous prehistoric caves.
There are excellent local markets at Gramat and Lacapelle-Marival. Further away, Sarlat is a popular tourist destination.
Many fine examples of Romanesque architecture may be found at Conques, Carennac (right), Beaulieu, Souillac, Cahors and further away, Perigueux and Angouleme.

The region abounds with caves and pot-holes, many with prehistoric paintings, including the famous Lascaux (now facsimile) to the north, Cougnac Caves (near Gourdon), and the superlative Pêch Merle caves with ancient painting cycles to the south.